Trails conditions
Hiking

Mountain bike
Ondago application
Mountain bike
the vallée bras-du-nord, suburb of paradise
Quebec's premier outdoor destination, the Vallée-Bras-du-Nord offers some 100 kilometers of cycling trails.
Our sectors
Dogs not allowed on trails
Class 1 electric-assist bicycles only are permitted
Looking for a day of adventure or a full weekend of mountain biking? Our trails are among the best in the world, offering an epic biking experience that will leave you with lasting memories. So get on your bike and come discover Vallée Bras-du-Nord by mountain bike!
The Shannahan sector, this is the Vallée's wild side. Just 20 minutes from Saint-Raymond, the trails plunge you into the boreal forest, skilfully carved into hills of glacial debris, along vertiginous cliffs, rivers, waterfalls and cascades. Beginners and experts alike can spend at least two great days here, with the option of staying in a campsite, shelter, yurt or cottage.
Right in the village, St-Raymond sector, offers 30 km of narrow, well-cut trails, spread over three small mountains with a rural feel. A succession of short, fast, flowing climbs and descents to follow, before enjoying a pint at the Roquemont microbrewery at the end of the trails. This is the ideal area for intermediate to advanced cyclists looking for a short outing.
DOWNLOAD OUR TRAILS MAP > OUR TRAILS MAP
Suggested Activities
Sucré Sector
The Sucrés sector, a real treat! Perfect for beginners and families alike, this sector offers easy-to-intermediate trails with plenty of confidence-boosting roll. Plan to stop for lunch at Delaney Falls for the ultimate experience!
Rivière Sector
These intermediate-to-difficult trails cross the alluvial terrace of the Bras-du-Nord River, offering magnificent scenery and an immersive nature experience. experience. The Rivière sector is the ideal place to discover for the first time the epic wilderness experience for which the Valley is internationally renowned! Don't forget to take a break at Chute à Gilles!
Enduro Sector
If you're a thrill-seeker, you won't be disappointed! A long, sustained climb, the Aurore offers a magnificent S-shaped route to the summit. A fast, flowing descent, the Boréal trail is dotted with jumps, breaks, bridges and natural obstacles. La Légende, as its name suggests, is one of the most epic trails in Quebec! Its breathtaking scenery, level of difficulty and surprising finale make it an unforgettable outing. The double diamond option, for experts only, leads to obstacles with no bypass routes, including steep rock slabs, jumps and breaks that deserve to be studied before setting off.
Vieille École Sector
Whether you're a beginner or an expert, push your limits in the Vieille École sector, a favorite spot for hard-core cross-country enthusiasts! This sector features "old school" trails that will put your technique to the test. Develop your skills in the Pratique-toi zone, a small, purpose-built learning area. After all, you're never too old to learn new tricks and techniques!
Gravité Sector
The Gravité sector is a playground for thrill-seekers, with its Bikepark-style trails featuring jumps, banked turns and technical descents. The area's most advanced trail, Godzilla, is an unforgettable experience for experienced cyclists looking for a challenge. Two new blue trails will also offer a great alternative for those looking to perfect their skills this summer. Come and defy gravity in this sector of Vallée Bras-du-Nord!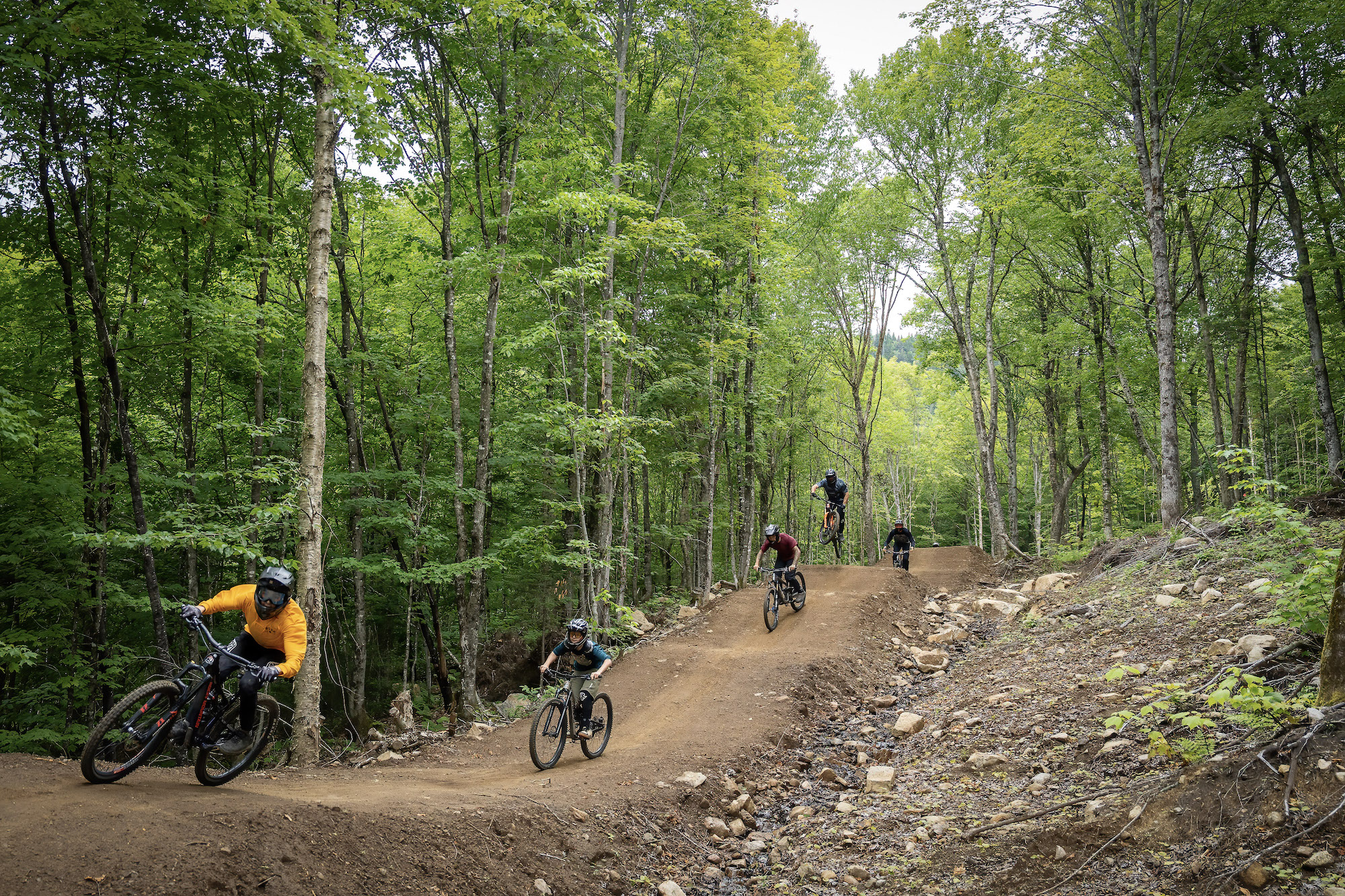 Neilson sector
Get ready for the epic adventure of the Neilson trilogy! More experienced cyclists will enjoy the technical complexity of the terrain the technical complexity of the terrain and the diversity of the idyllic landscapes. The Neilson trilogy has contributed to the international renown of the Vallée Bras-du-Nord - find out why! The Neilson East is a fast, natural descent that puts skills to the test. Following the Bras-du-Nord River, the Neilson North offers incredible panoramic views of the river and surrounding capes. It's the ultimate Valley experience! Beware, however, of the many roots and rocks that require attention! The return via the Neilson South, which also follows the river, offers a wild but much shorter experience, with a fast and technical downhill section.
Mountain Bike Rental
> Enduro
> Trail
> eBike
> Children's bikes
Explore the trails of the Shannahan sector on one of our many mountain bikes, available for rental to beginners and advanced cyclists alike!
A picture is worth a thousand words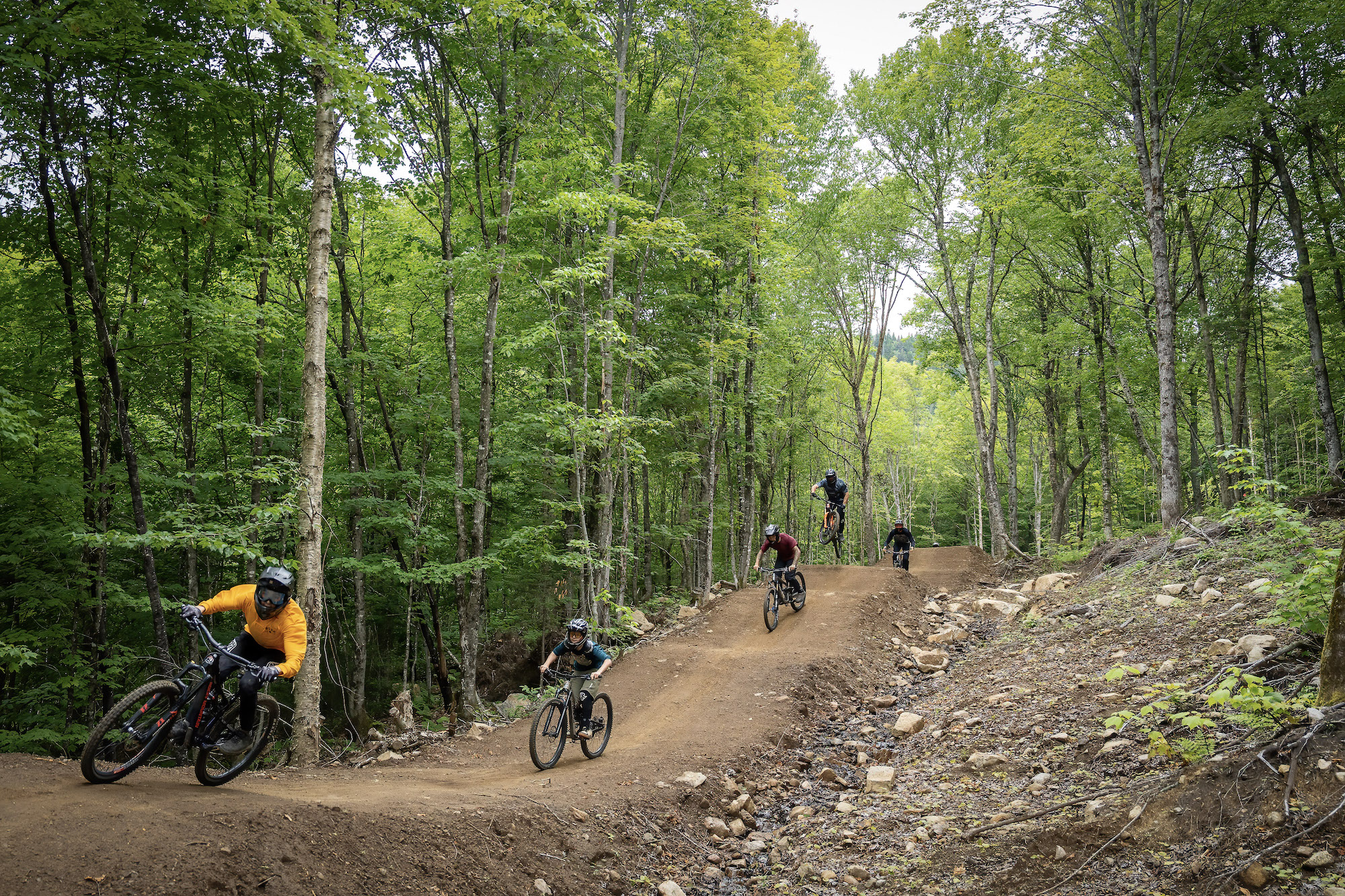 Watch our videos
Godzilla: The Complete Collection!
Mountain Biking To Canada's Best Poutine
BLUE TRAIL SPECIAL #3 // Maple butter 🍭 // Vallée Bras-du-Nord
Rates
Mountain biking | Daily Pass

Young children

(6 years and under)

Family

(2 adults and their children)
Mountain biking | Annual Pass

Junior and child

(ages 7 to 17)

Family

(2 adults and their children)
Prices are subject to change without notice.
Residents of St-Raymond benefit from a 50% discount on the annual pass. Proof of residency required.
Online booking
Required
You must purchase your daily access online and present your QR code on arrival.
Book online now >
The children loved their day.
The children loved their day.
We're already looking forward to tomorrow.
It's sure to be an annual event.
- B. Gagnon
Online booking
Required
Right of access is mandatory to access activities. You must purchase your daily access online and present your QR code upon arrival.
Download the trail map on the app Ondago.
See our Reservation policy >